There is a common fear among men who are seeking to go out and meet new women.
It's a deeply-rooted fear, one that is often termed "approach anxiety."
If you've never heard of  "approach anxiety" before, here is the scenario:
You're out and about, maybe at a bar or a coffee shop.
You see a woman you're attracted to, sitting all by herself.  You look at her for a brief moment.  What you really want is introduce yourself and have a great conversation.  Then, with any luck she'll be interested in you.
Ok, so now it's time to make something happen.  Time to get up and say something.
But the fear has already kicked in: You can't go talk to her.
You get a horrible sensation in your stomach.  Your mind starts racing, thinking ridiculous thoughts, giving you any excuse in the book why you shouldn't just say something.  Anything.  Something as simple as, "Hi, how are you doing today?"
But you can't.  You're paralyzed.  You're stuck in a situation where you could go introduce yourself–you've really got no excuse–but you're too afraid of what might happen.  In fact, you have no idea what might happen, and that's what makes it frightening.
You're afraid she may not want to talk to you.  You're afraid you'll say something stupid, or you might run out of things to say.  You're afraid you're not tall enough, or not handsome enough, or you're too fat.  You're afraid she'll laugh at you.  You're afraid she's going to think that you want to have sex with her, and you could never face the shame of being seen as a pervert.
But the bottom line is this: You're afraid that you might get rejected.
So instead of walking over and saying something, what do you do?
You continue to sit there… and you do nothing at all.  Then, after a while, you look over and watch as she gets up and walks out of your life forever.
Another missed opportunity.  So you go home upset, frustrated, kicking yourself because you know you could have just said something.  You could have said anything.  But you did nothing.
Now some men know how to start a conversation, but they just can't seem to ask for her phone number when the time is right. Other men can get a phone number and a date, but they can't brave a kiss at the end of that date.
These differences do not matter, because the fear that prevents one man from starting a conversation is the same fear that prevents another man from getting a phone number, which is the same fear that prevents the next man from kissing the girl when he wants: the fear of rejection.
The fear of rejection is a powerful fear.  It is the reason why we hesitate, it is the reason why we doubt ourselves, it is the reason why we fail to take action and later experience regret.   It is so powerful that we'd rather remain ashamed, unfulfilled, and unhappy than face the possibility of getting rejected to our face by another person, much less a beautiful woman.
How Do You Eliminate the Risk of Rejection?
Wouldn't it be amazing if there was some way to know whether she is interested in you?  That way you'd save yourself the embarrassment and humiliation of getting rejected.
Wouldn't it be amazing if somewhere you could just buy some Anti-Rejection Glasses?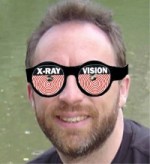 Just like those cardboard "X-ray Specs" they used to put in old comic books and cereal boxes, you could put on these magic glasses whenever you enter the bar, the party, or the coffee shop.  And just like an X-ray, you could scan the room and the Anti-Rejection Glasses would tell you exactly who is going to be interested in you and who isn't.
You would know exactly who to approach!  And best of all, you would never risk getting rejected again.  Wouldn't that solve all of your problems trying to meet and make connections with women?
It would be great if you always knew when a woman is going to be receptive to you.  It would be great if you always knew when a woman is attracted to you. Being certain of getting an outcome you desire feels good because it feels safe.
But the pursuit of certainty is a pursuit without end.  You will never find it.  The only way to be certain about an outcome is to take no action at all.
Rejection is a fact of life.  If you take any action to improve this area of your life at all, you must accept that rejection is a possibility that you can never eliminate.  You can never memorize enough lines, or learn enough body language cues, or do enough of the right moves to give you an outcome that is safe and certain.
You can never eliminate rejection.  You can only eliminate your fear of rejection.
Avoiding Fear vs. Understanding Fear
Being rejected is painful. It hurts. It validates the deep fear that perhaps we aren't good enough after all. Maybe we don't have what it takes…
To avoid experiencing the pain of rejection, we seek answers that eliminate the possibility of being rejected.  We seek an answer that promises to give us the exact results that we want.  We seek an answer that guarantees the results we want:
"Approach women without rejection, guaranteed!"
"Get her phone number every time!"
"Get girls to chase you!"
We gravitate toward these answers because they show us how we can avoid our fear.  These are the easy answers.  We learn a pickup line, or we ask her some dumb question we don't really care about, or we pretend to play it cool and not be interested so we don't look desperate.  And we do it all for one reason: to eliminate the possibility of rejection.
Yet this very mindset—seeking to avoid the fear of rejection and still get a desired result—is itself rooted in fear.
The true solution begins with understanding our fear.  That is the first step to overcoming our fear.
When we seek to understand our fears, they tend to dissolve.  When we avoid our fears, they remain hidden and they grow.
Too many times we fear the unknown. We fear the mere idea of putting ourselves out there, allowing ourselves to be vulnerable, and then getting shot down for everyone to see.  And so, as a result, we avoid the unknown.
A guy will think his entire manhood is on the line if he gets rejected, simply because the woman he's interested in decides she doesn't want to talk to him.
"What if I approach her and she doesn't like me?  What if she laughs at me?  What if I run out of things to say?  What if she has a boyfriend?  She's really cute and I can't look like a fool in front of her…"
Stop.  Yes you can.  You can look like a fool.  You can look like whatever you want.  You can do whatever you want.
And as a man you don't let her perception of you stop you from doing anything. 
You Will Never Know Unless You Try
The fact is that Anti-Rejection Glasses don't exist.  They never will.  There is no e-book you can buy that will guarantee a rejection-proof method of meeting women.  There is no line that is going to work every time, there are no body language cues you can rely on.  There is no answer that will guarantee you the results you're looking for.  All of those promises are empty promises.
The truth is that you'll never know if she's interested in you unless you present yourself and go for it.
She may be interested, and she may not be.  That is the way it is, and one huge step toward overcoming your fear is accepting this fact:
Not every woman will be interested in you.There is nothing wrong with that, and there is nothing wrong with you.
And putting yourself into this mindset automatically makes you more attractive to women.  Own that fact, because it is a big part of owning yourself.
The fact is that there are plenty of great single women out there who will be interested in you.   Believe it because it is true.  And if you don't believe it, well then that will be true for you as well.
But it's up to you to put yourself out there and meet them.  The difference between the guys who get phone numbers, dates, and girlfriends, and the guys who get nothing, is the fact that they go out, approach the women they're attracted to, and take the risk of rejection.  They know they may be rejected, they may even be afraid of it…and they do it anyway.
The mistake that a man makes is not that he was rejected by a woman.  It's that he never even tried.
You'll never know unless you go for it, and that's the hardest part.  It's hard because you must recognize the fact that you will have to experience rejection.
But it's also the best part.
Because when you do present yourself to her, and you do get the phone number, or the date, or get laid, or she becomes your girlfriend, you'll know that you had the strength to approach her exactly the way you are—without the need for any games or Anti-Rejection Glasses to keep you safe.